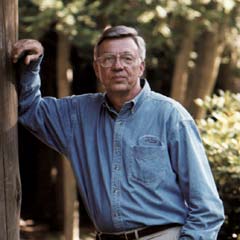 As the chief golf course architect and principal of Rulewich & Fleury Golf Design, I have over four decades of experience designing and upgrading courses around the world. These designs are crafted the old fashioned way: by hand and on site. This highly personal and creative approach results in courses that balance aesthetics and playability, shot values and flexibility, beauty and challenge. My intimate involvement in each project, along with the collective experience and skill of The Group, ensures a smooth and coordinated planning and construction process.
A few years after graduating from Yale University in 1958 with a degree in civil engineering, I started my apprenticeship with Robert Trent Jones, Sr. When his office was closed in 1995, the experience of 34 years enabled me to form the Roger Rulewich Group and continue my design work. As the principal architect on many of the courses credited to Jones, I was now responsible for the many projects under my own name. These designs have been recognized by the press, appreciated by our clients and most importantly, enjoyed by golfers.
Throughout my career, I have provided the design, redesign and field direction for more than 125 courses throughout America and abroad. Any list would have to start with the largest single collection of new courses ever built. The Robert Trent Jones Golf Trail in Alabama comprises 24 courses at 10 different locations around the State. Other recent projects are Saratoga National Golf Club in New York and Grande Dunes Golf Club in Myrtle Beach, South Carolina. Each has been honored as "best new public" course by GOLF DIGEST and GOLF magazines. In addition, Fox Hopyard in Connecticut, Crumpin-Fox in Massachusetts and Ballyowen in New Jersey stand atop GOLFWEEK's listing of best by State. Such accolades are accepted as a reflection of our commitment to excellence on every project I undertake, whether public, private or resort. Overseas work includes Adare Manor in Ireland, Grandee Nasu-Shirakawa G.C. in Japan, Playa Grande in the Dominican Republic and Tucker's Point in Bermuda. A long list of renovation and improvements to existing courses reflects my sensitivity to other designs, and is work well suited to our "hands-on" approach.
I was accepted into the American Society of Golf Course Architects (ASGCA) in 1974 and have been active with promoting the standards and information offered by that select group. I served as President in 1987 – 1988 and continue as an active member. With a family scattered over the country, I reside with my wife close by our headquarters in Bernardston, Massachusetts.
Copyright © 2012 The Roger Rulewich Group