With every new project comes a unique set of challenges and opportunities, and each demands the ability to provide our clients a set of services tailored to their needs. We approach each project as a great new opportunity to develop a successful team, and we pride ourselves in the flexibility we offer. With our hands-on approach to design and construction management, and the fact that we employ our own experienced team of shapers, this ensures our designs are transformed from the drawing board to the earth exactly as we intended. It all depends on a particular client's specific needs and desires. Our services range from full construction management to the basic agreement of design and shaping.
Design Services
Land
-
Details
-
Construction
It all starts with the land! Getting to know it is always the first step whether it is a new and undeveloped property or home to an existing course. We need a clear picture and a feel for the land and there is no substitute for the time spent walking, inspecting and reviewing the property. These times coupled with good mapping allows us to give an honest appraisal and to discuss the sites potential. Basic considerations of the owner's needs and the property's assets and liabilities are addressed before the design process begins.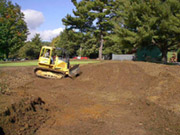 Construction Services
Shaping
–
Construction Coordination
Rulewich & Fleury Golf Design is one of the only firms in the golf industry to combine design and construction, which translates into a philosophy that not only recognizes the importance of great design, but also great construction. The construction process begins long before the first yard of earth is moved. During the outset of every project the construction phase is always in the forefront of our planning. It begins when we walk the land for the first time, reviewing the land not only for its landform qualities and setting, but also for what obstacles we may have to overcome during construction.
Copyright © 2012 The Roger Rulewich Group